Beijing International Peace Culture Foundation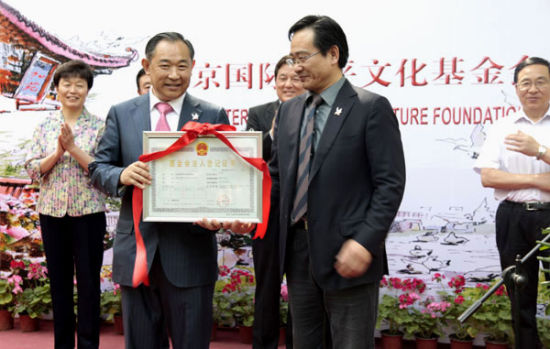 Beijing International Peace Culture Foundation (BJIPCF) is a public foundation set up on February 2013 with the approval of the Beijing Municipal Civil Affairs Bureau. With the tenet of carrying on traditional culture and developing modern civilization, BJIPCF has established a cooperative international platform for social, economic and cultural exchanges through years of civil diplomacy.
Mr. Li Ruohong, founder and legal representative of BJIPCF, is an internationally well respected peace ambassador and civil diplomat. He advocated the "Peace + 1 " international public welfare model to promote cooperation between China and international organizations and government of different countries in various areas, which has achieved positive results in political mutual trust, think-tank building, friendly interaction, "bringing in and going out" etc., and has effectively helped the developing countries and vulnerable groups and supported Beijing's public welfare and charity undertakings.
As the strategic partner of UNESCO, BJIPCF works together with UNESCO particularly in the areas of "Peace + Education", "Peace + Science for Sustainable Development", "Peace + Sports", "Peace + Cultural Heritage", "Peace + Arts and Music" as well as "Peace + Cities and Creativity", thereby promoting the peace culture cognition in different social levels and member countries of UNESCO. Together with its partners, BJIPCF advocates peaceful dialogues and brings benefits to the world by organizing series of activities such as World Peace Day, the Silk Road and Model UNESCO.
BJIPCF, acting as an "international volunteer", sticks to the principle of "contributing to China and serving the world" and promotes foreign exchanges and collaborations in various areas, such as culture, education, art, sports, health, economy, finance and so on. It has thus established a platform for cooperation between government and nongovernmental organizations as well as a cooperation system of "academic think tank – thematic culture – industry alliance – international charities". Besides, BJIPCF has recently created a financial investment cooperation model of "PPP+P" (i.e. Public-Private Partnership + Peace) in accordance with the economic cooperation model of "PPP" initiated by the Chinese government. In the "Peace Garden Community" – an international stateroom, built by BJIPCF in Beijing, there stand stone inscriptions on peace by leaders from international organizations and ambassadors to China from 178 countries. It is an attractive sight for visits by heads of states and government delegations during their stay in China. It is also the "Ambassadors' House" for foreign diplomats working in China, being regarded as a "mini UN" by international community.