Professor Li Ruohong attended the meeting to congratulate the 5th Anniversary of the International Alliance of "Silk Road" Architectural Universities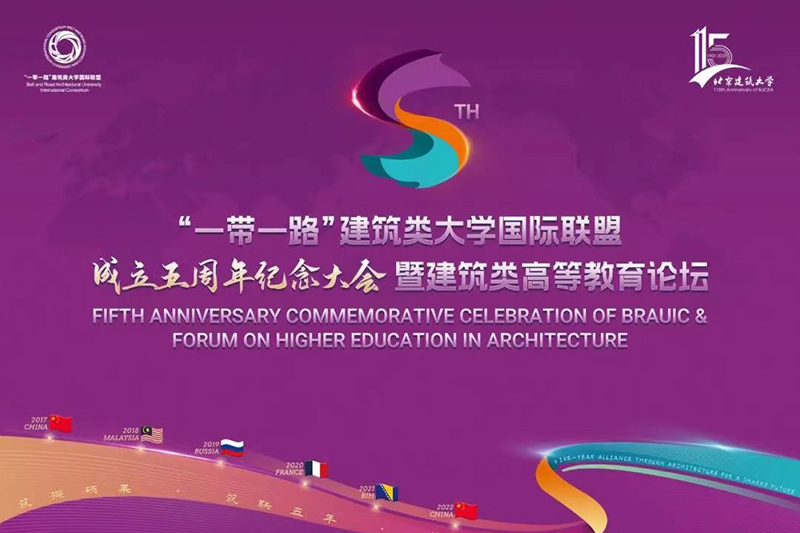 On November 11th , 2022, the 5th anniversary of the International Alliance of "Silk Road"Architectural Universities and the Forum on Higher Education in Architecture were held online. The conference attracted more than 200 representatives from more than 40 universities and institutions at home and abroad from 14 countries, including China, UK, France, Bosnia and Herzegovina, Poland, Italy, Serbia, Montenegro, Greece, Armenia, Russia, Malaysia, Indonesia and Kyrgyzstan. On the occasion of the fifth anniversary celebration of the Alliance, all delegates looked back on the past and looked forward to the future; We will jointly discuss how to respond to new opportunities and challenges brought about by changes in the world situation in the context of the normalization of the global epidemic, with a view to further promoting exchanges and cooperation among architectural universities in countries along the "Silk Road".
Li Yi, Deputy Director of the Foreign Affairs Office of the Beijing Municipal People's Government, Sun Qijun, Deputy Director of the Beijing Municipal Education Commission, Guo Lugang, Vice Chairman of the Beijing Association of Science and Technology, Li Junfeng, Zhang Dayu and heads of relevant departments of Beijing University of Civil Engineering and Architecture, attended the meeting.
Li Ruohong,President of Beijing International Peace Culture Foundation(BIPCF) , the co-organizer of the competition,said that the 2022 "Silk Road" International Undergraduate Digital Architecture Design Competition led college students from all over the world to jointly conceive a new pattern of digital development. As an official partner of UNESCO, BIPCF are willing to work together with the Silk Road" International Alliance of Architectural Universities to expand "Peace+1" international exchanges in various forms and cross-border cooperation, so as to help young people realize lifelong values and benefit a better living space for mankind.